Landscaping Jobs
with Competitive Pay, Ongoing Training, and Top-of-the-Line Equipment in Bethel Park, PA, and the Pittsburgh Area
Join a Team of Professionals Who Take a Science-Based Approach to Lawn and Landscaping Services and Work to Exceed Client Expectations
Dream Greener Lawn & Landscape provides landscape maintenance, lawn care, outdoor living design and installation, small tree services, and snow removal in Bethel Park, Pennsylvania, and other area communities. We're known for offering responsible recommendations and honest pricing, a Communication Promise that ensures quick responses to our clients' messages, and an analytical, technology-forward approach to landscaping for precise results. Over the years, we've put together a team of professionals who aren't just here for the landscaping jobs: they're building long-term careers, and they're doing it with competitive pay and benefits, ongoing professional development, and work/life balance.
Join Our Team: Embrace our Core Values and Build a Rewarding Career in Landscaping
At Dream Greener, we place great importance on qualities such as reliability, a strong work ethic, a positive attitude, and effective communication skills. These attributes form the foundation of our exceptional team, which is dedicated to overcoming landscaping challenges through collaboration and innovative solutions. If you embody these qualities and are passionate about making a difference in the landscaping industry, we invite you to join us and be a valuable part of our team.
We understand that a successful career is built on a solid foundation. That's why we offer lawn care, landscape construction, plant health, design, administrative and supportive management positions with clear career paths, providing you with opportunities for growth and advancement within our company. Our supportive onboarding process ensures a smooth transition, and our commitment to extensive training and education allows you to continuously develop your skills and stay ahead of industry trends.
But it doesn't end there. We believe in going above and beyond to provide our team members with a range of benefits that exceed those offered by many other landscaping jobs in the Mt. Lebanon area. Our comprehensive benefits package includes competitive compensation, health vision and dental insurance, retirement plans, and more. We believe that taking care of our employees is essential to their overall well-being and job satisfaction.
At Dream Greener, we live by our core values of integrity, professionalism, exceptional service, and environmental stewardship. These values guide our actions and shape our company culture. When you join our team, you become a part of a community that is dedicated to delivering outstanding results while making a positive impact on the environment.
Explore our available positions and take the next step in your landscaping career. Join us today and experience the fulfillment of working in a team that upholds the highest standards of professionalism and strives to exceed client expectations.
Apply now and become an integral member of the Dream Greener family. Together, let's create landscapes that inspire and transform.
Apply Now
Join Our Team: Explore Exciting Landscaping Opportunities and Apply Today! 
If you're ready to embark on a rewarding career in landscaping and want to be part of our dynamic team, we invite you to check out our available landscaping jobs. We have a range of positions waiting for talented individuals like you who are passionate about creating beautiful outdoor spaces.
Unleash Your Potential with Dream Greener: Join a Team Committed to Excellence and Innovation in the Landscaping Industry
When you succeed, we succeed. Our team is well-supported with the pay, benefits, flexible work schedules, and growth opportunities they need to thrive in their personal and professional lives. We've developed a close-knit, team-oriented culture where everyone's ideas are heard and valued, and we work together on landscapes we can be proud to put our names on. This is why our employees enjoy working here, and why many of them have been with us for years:
Dream Landscapes and Dream Careers
When you join our team, we prioritize your success from day one. Our thorough onboarding process is designed to familiarize you with our tools, processes, and company culture, ensuring a smooth transition into your role. We believe in promoting from within, and if you have the ambition and skills to advance, we are committed to providing a clear career path for your growth.
As part of our commitment to your professional development, we offer regular meetings with company leaders to discuss opportunities for advancement. These discussions provide a platform for you to express your career aspirations, and we actively support your goals by providing paid education and industry certifications. We believe in investing in our employees' knowledge and skill sets, equipping you with the tools needed to excel in your career.
Extensive Perks and Benefits
At Dream Greener, our priority is to support your personal and professional growth, ensuring you have the tools and resources to excel both at work and in your personal life. Here's what we offer:
Safe Job Sites and Well-Maintained Tools and Equipment
At Dream Greener, we prioritize equipping our team with the necessary resources to excel in their work. Our commitment to providing a safe and efficient working environment sets us apart. Here's how we ensure your success:
State-of-the-Art Equipment
We understand that having the right tools is crucial for delivering high-quality results. Our team is equipped with a range of trucks, trailers, manual tools, and power tools that are tailored to each specific task. We regularly inspect and maintain our equipment to ensure they are in optimal condition, minimizing any disruptions and enabling you to work with precision.
We value your expertise and believe in fostering a collaborative work environment. If there's anything you need to enhance your job performance, we encourage you to communicate with us. Whether it's a specific tool or equipment request, additional training, or any other support, we are here to listen and provide the resources necessary for you to excel.
The well-being of our team, clients, and the public is of utmost importance to us. On every job site, we adhere to stringent safety protocols and industry best practices. We provide regular safety training and ensure that all team members are equipped with the necessary personal protective equipment (PPE) to mitigate any potential risks. Our commitment to safety creates a secure work environment where everyone can focus on their tasks with peace of mind.
By investing in top-notch equipment, valuing your input, and prioritizing safety, we aim to create an environment where you can thrive and deliver outstanding results. We believe that by providing you with the tools and support you need, we collectively contribute to the success of our team and the satisfaction of our clients.
Our team has the right tools for every task, and we make sure these tools are well-maintained and ready to use. We want you to be able to work with precision and efficiency, and we encourage you to let us know if there's anything you need to do your job better. On the job site, we follow strict safety protocols to protect you, your fellow workers, our clients, and the public as a whole.
Our Available
Landscaping Jobs
Take a closer look at the requirements and expectations for these landscaping jobs. If you don't see the right role for you, check back soon! We will add more opportunities as our company continues to grow.
If you think you'd be a great fit, apply today.
Unlock a World of Benefits with Dream Greener: Join Our Team and Enjoy an Exciting Package of Perks and Rewards
At Dream Greener, we believe in work/life balance and providing the support you need to succeed personally and professionally. To that end, we offer our employees a wide range of benefits:
UPMC health insurance plan, vision, and dental (after three months employment)
401(k) retirement plan with 3% matching (after six months employment)
Flexible schedules with optional winter layoff and optional no weekends (after the spring rush)
Holiday break between Christmas and the New Year
Paid vacation (after one year full-time employment) and personal days
Paid training and industry certifications
Company uniforms
Annual performance reviews with the opportunity to earn a raise
Performance bonus
Referral program
Easy-to-use electronic work orders and GPS navigation for appointments
Top-of-the-line tools and equipment
Company events like quarterly breakfasts and lunches, year-end parties, and more
Phone, tablet, and/or company vehicle for certain management positions
Mt. Lebanon
Upper St. Clair
Peters Township
Bethel Park
Bethel Park
Presto
South Fayette Township
South Fayette Township
Rosslyn Farms
Rosslyn Farms
Pittsburgh
Pittsburgh
Oakdale
Oakdale
These Landscaping Jobs Will Take You Throughout the South Hills and Surrounding Communities
At Dream Greener Lawn & Landscape, we provide residential landscape maintenance and lawn care, outdoor living design and installation, small tree services, plant health care, pest control, and snow removal in the Mt. Lebanon area. We work with homeowners and select business owners and property managers in the following communities:
Southpointe, PA
Rosslyn Farms, PA
Washington, PA
Oakdale, PA
Shadyside, PA
Sewickley, PA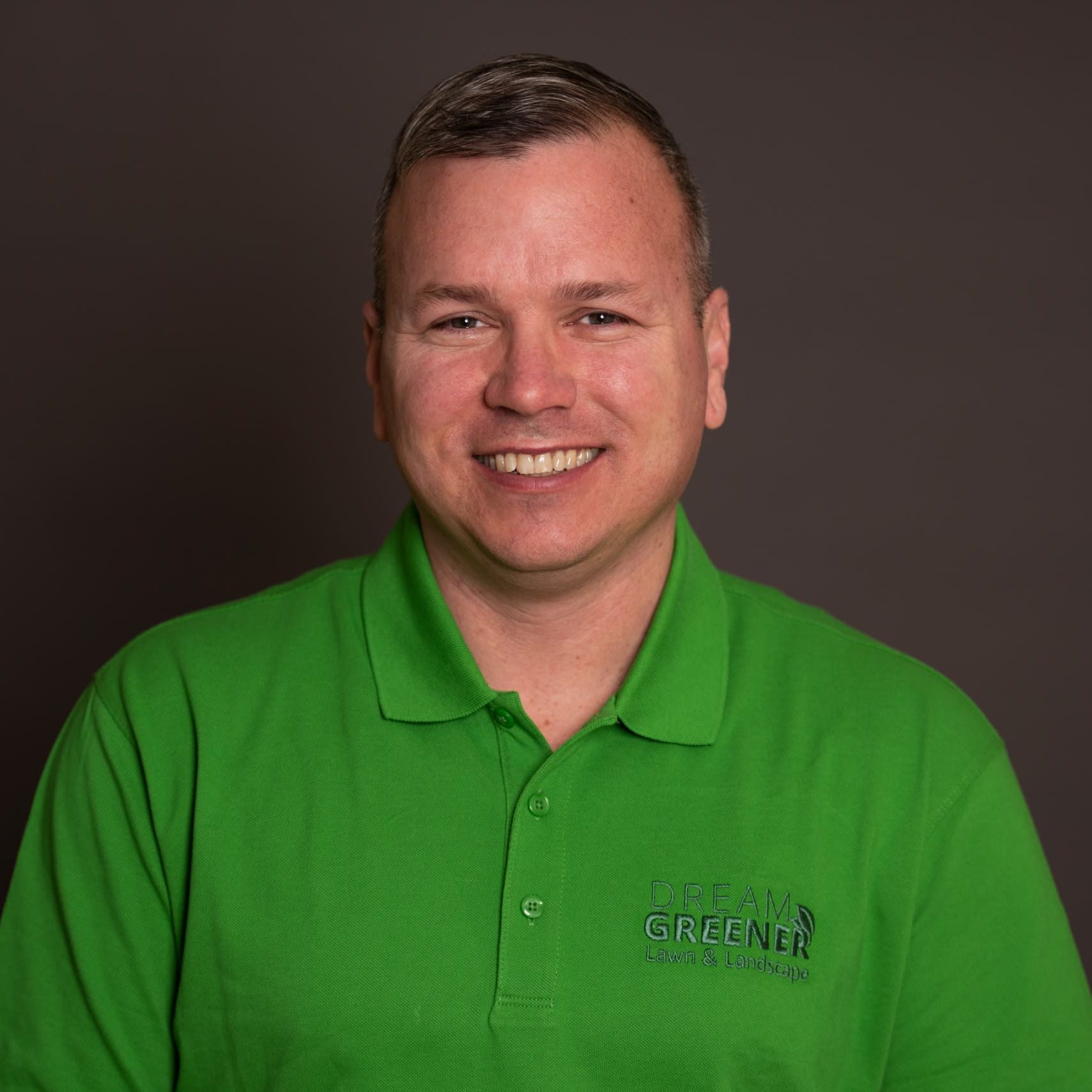 When Jon Stanton was eight years old, he started mowing lawns and shoveling snow in his neighborhood. This sparked his passion for landscaping and led to a position with a national turf care provider, where he deepened his studies and his knowledge of turf and plant health care. Today, Jon leads Dream Greener Lawn & Landscape as its founder and president. He's a Licensed and Certified Turf Care Applicator, Licensed Tree and Pest Care Applicator, Pennsylvania Certified Tree and Plant Dealer, and a member of the National Association of Landscape Professionals. He's proud to have brought together an incredible team of landscape contractors who share his passion for science and precision, fine outdoor spaces, and client satisfaction.
You can Launch Your Dream Career Today
Join us in offering our clients the landscaping solutions they need—even when they might not have been aware they had a problem—and working to exceed their expectations all year long, from landscape maintenance to tree services to snow removal. We're always on the lookout for fellow professionals who are eager to take an analytical, science-based approach to landscaping for optimal soil, lawn, and plant health and durable outdoor design and construction.
Fill out our online application form for our landscaping jobs in Pittsburgh, Pennsylvania. If you're a hard-working, honest, team player who is willing to learn, we'll be in touch to schedule an initial phone call to get to know you better. If we both still believe you're the right fit for Dream Greener Lawn & Landscape, we'll invite you to visit our facilities for an in-person interview. We're looking forward to hearing from you. Apply today.